Bill of Sale
A bill of sale is a legal document made by a 'seller' to a purchaser, reporting that on a specific date, at a specific locality, and for a particular sum of money or other "value received", the seller sold to the purchaser a specific item of personal, or parcel of real, property of which he had lawful possession.
Download

the Bill of Sale automated template and more than 100 other automated forms



Free Download
State of Arizona
$1,888.25
County of Maricopa
Bill of Sale of Personal Property
IN CONSIDERATION of the sum of One Thousand Eight Hundred Eighty-Eight Dollars and Twenty-Five Cents ( $1,888.25 ), plus any applicable sales taxes, paid by certified check, the receipt of which consideration is acknowledged, Jeffrey Jones (the 'Seller') of 19th Floor, 1608 Walnut Street, Phoenix, Arizona 85016, SELLS AND DELIVERS to Hanna Westcott (the 'Purchaser') of 777 South Figueroa Street, Suite 3307, Salt Lake City, Utah 43230, the following personal property (the 'Personal property'):
*Property Details*
The Seller expressly disclaims all warranties, whether expressed or implied, including but not limited to, any implied warranty of merchantability or fitness for a particular purpose. The Seller does not assume, or authorize any other person to assume on the behalf of the Seller, any liability in connection with the sale of the Personal property. The Seller's above disclaimer of warranties does not, in any way, affect the terms of any applicable warranties from the manufacturer of the Personal property.
The Purchaser has been given the opportunity to inspect the Personal property or to have it inspected and the Purchaser has accepted the Personal property in its existing condition. Further, the Seller disclaims any warranty as to the condition of the Personal property.
SIGNED, SEALED AND DELIVERED
this 4th day of April, 2019
in the presence of:


SIGNED this 4th day of April, 2019
in the presence of: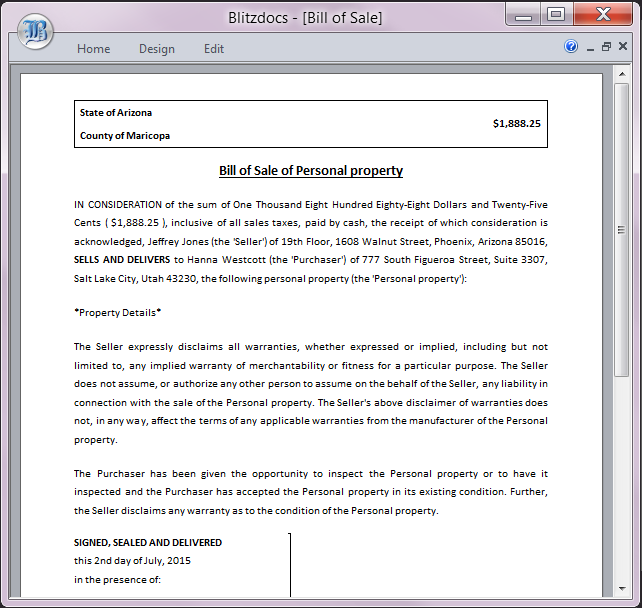 Download the Bill of Sale automated template and more than 100 other automated forms.
Free Download